G
oogle once again made waves when they introduced another algorithm update in October 2019 - BERT. Since the release of BERT, people have been asking the questions: how will it affect my content marketing, my search results and rankings, as well as how BERT will affect website performance.
To find out how BERT 

will affect your SEO and what you need to do adapt and remain competitive, keep reading!
What is the BERT algorithm?
BERT, which stands for Bidirectional Encoder Representations from Transformers is a neural network-based technique which enables Google to better understand natural language, in particular conversational language and long-tail keywords rather than just the one-word keywords. Ultimately, if Google has a better understanding of conversational searches, especially because more and more search is shifting to voice, then Google is able to give better results to its users.


The next big question, how is BERT going to impact your SEO?
Any change that targets organic ranking is a change not to be taken lightly. BERT will impact 1 in 10 search queries and will affect your featured snippets and content marketing.
As BERT gradually transitions, small changes will reverberate into big ones which is why it will be very important for your SEO plan at adhere to BERT's guidelines, so you are better able to cope with the algorithm's continued development.
According to the experts, BERT is already well fed and well trained with the entire English Wikipedia, that's more than 2,500 million words and continues to learn more and more daily.
BERT is not just another update, it is also a research paper and machine learning natural language processing framework. It is pretty exciting to think that machines will be able to understand and respond to our languages and this growing relation between machine learning ML and the natural language understanding NLU is literally going to change the way search engines work.
With this in mind, we are going to look at content creation and how it is being highlighted in the BERT discussion. Search has become more contextual and relevant with the introduction of BERT because it is focused more on the question,
what does the user want to find out?
and from there will draw the best possible and most relevant answers to the query that's typed in.
Conversational intents or long-tail keywords which feel more natural to the users searching is the primary goal of this algorithm update. Google understanding the context of words especially prepositions such as "to" and "for" that can have a lot of meanings to the search query will generate better search results for the user.
We all know in the English language many words can have context in their meaning. For instance the word 'stand' is not just a word used to describe an action, it can also be used in the context of physical demand. BERT will enable Google to differentiate between the two when providing search results.
See the example below from Google: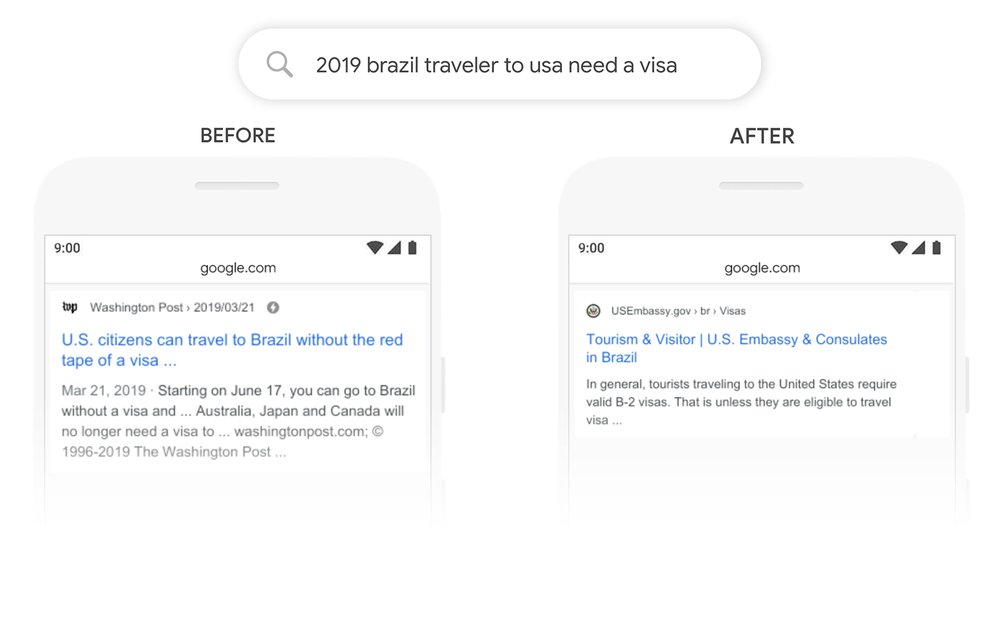 Before the introduction of BERT, Google provided search results based on the words U.S citizens, Brazil and visa with the idea that the search was about US citizens travelling to Brazil. But in reality the context of the search was the other way around and was in fact about a Brazilian travelling to the U.S. Previously the algorithms wouldn't understand this distinction, but now with BERT, Google is able to grasp the nuance and know that the very common word "to" actually matters a lot here and can now provide a better result for the search query.
LET'S LOOK AT How BERT will affect your featured snippets
With the introduction of BERT, now Google focuses on the sentence as a whole instead of just the main words and will take into account longer and conversational queries, and as previously mentioned by Google being able to take in prepositions like, 'for' and 'to', it will be able to make true sense of the complete sentence and ultimately to the search results.
So, you're now probably wondering how to optimise for on page SEO with BERT?
There isn't much you need to do if you are already optimising for voice search, long-tail keywords and conversational tone in your content. If, you don't know what we are talking about, then you need to do the below:
1. Long-tail keywords
The new trend is long-tail keywords with your content being a conversation focused on natural language. The days of stuffing your content with one-word keywords is no more and the practice is now considered to be old fashioned. Provide more elaborate content that offers value to your audience. Focusing on a higher level of content, phrase and sentence structure will benefit you more in the long run, giving you more chance to increase your organic rankings and site visits.
2. Quality content
When we say conversational, that doesn't mean you write content as though you are talking to a friend. You need your content to be specific and straight to the point and answers exactly what the user is searching for. None of us have time to waste, which is why the SEP is flooded with rich snippets. Google wants to provide people searching with quick and accurate results.
3. Content length
The length of your content doesn't matter to Google. You are not being judged on how many words you write, but on the relevance, quality and value of the content you are providing to users. So, if your content requires a couple or a few thousand words, then go for it, but if you can get it done in 500 words, then that's your limit.
4. Relevant content
In elaborating, what has been mentioned above, the contention your website for many years now has been a high ranking factor for Google. Long gone are the days, when all you needed to do was rely on the aesthetics of your site and put forth poorly written content online for SEO link building purposes and on your website. As we have stated, Google is getting smarter with each update it releases and thanks to BERT, content is even more of a factor in SEO where engaging, high-quality and relevant content that is published online will rank higher in SERPs and sites that solely target traffic in their SEO Plans will be ranked down.
When writing your content make sure it is:
audience-centred
up-to-date and relevant
comprehensive and easy to absorb
As Google's public Search Liaison Danny Sullivan said, "write content for users". Though there are practices that sometimes overshadow the importance of writing good content, it still remains unchanged that your content will always be the main factor in generating organic traffic and Google's basis for when it comes to displaying current search results.
5. Engaging and valuable answers
With the focus now on question-based queries and conversations, your content needs to also focus on engaging and valuable answers. Voice search when it was introduced by Google in 2011 was considered to be more of a novelty than a feature that users relied upon at the time. However, with improvements in speech recognition technology, today in 2020 voice search is at the forefront of search marketing.
The year 2020 will see more than half of all smartphone users engaging with voice technology on their phone. Statistics show that right now, 41% of adults use voice search at least once each day and as voice search continues to grow the BERT results will also get more popular. A majority of conversational based queries are question related so, if you want your content to rank well in organic search results, it stands to reason that your content should also be answer based. But, not just answer-based, it also needs to be unique and valuable too.
Will BERT affect your website's performance?
We have talked a lot about how BERT will affect your SEO in relation to content marketing and you are now probably wondering if BERT will also affect you website performance.
Currently, BERT only analyses search queries, not websites. Google's team also say that there is no way for you to optimise for BERT. While it is true that there is no way on earth that you would be able to manipulate the algorithm to your advantage, you can always improve the quality of your website's performance to boost search rankings.
If you haven't already done so, incorporate these 3 SEO techniques to maintain or improve your ranking, post BERT update:
Speed up your website. Google is looking to provide content from sites that work well online. If you speed up your site you can provide a better user experience and improve your ranking. One option is to use AMPs (accelerated mobile pages) which speeds up website for mobile users. Another option is to increase your page speed with a static site generator and a content delivery network. If you are not sure what your current website load-time is you can find out via Google PageSpeed. Site speed is a confirmed Google ranking factor.
Minimise HTTP requests. About 80% of a web page's load time is spent downloading the different features of the page such as images, stylesheets and scripts. An HTTP request is made for each one of these elements, so the more on page components you have, the longer it takes for the page to render. If you reduce the number of these requests you'll speed up your site. If yo use Google Chrome, you can use the browser's Developer Tools to see how many HTTP requests your site makes. Simply, right-click on the page you want to analyse, and click "Inspect," then click the "Network" tab.
Optimise and reduce image size. Images that are not optimised can be very heavy and as result will use a lot of server resources and will take longer to load. You can significantly reduce the size of your image while ensuring that the image quality is not impacted by using these tools. If you're a Wordpress user, try WP Smush. For Drupal and Joomla (or everyone else) you can try using Kraken.
Every website will be affected by BERT somehow, but just because 1 in 10 queries will be impacted doesn't mean that 10% of your website's queries will also be impacted. The actual number might be much higher or lower. Exactly how much will be dependent on the content you produce, the typical behaviours of your audience and the traffic you are currently getting. In laymen terms, if you rely heavily on blog posts to drive traffic to your website and these blog posts target informal and conversational questions that might be ask by users, then you will be heavily impacted by BERT. This isn't necessarily a bad thing, being heavily impacted could mean more organic traffic and better rankings. However, it could also mean better organic rankings and more traffic for your competition.
In conclusion
Don't panic. Although BERT is one of the search engine's biggest updates in 5 years and has already made significant changes to Google's search rankings there isn't any need to stress out, unless you engage in blackout SEO or have a terrible website with lots of thin, poorly written content.
The best way for you to get along with BERT and to rank well is to provide authentic, helpful information that reads naturally and is written for people, not for search engines.
If you need help with your SEO plan, get in touch with us today either by giving us a call for a chat on (07) 5592 2685 or emailing info@seoplans.net.au. You can also hit the 'live chat' button as well.